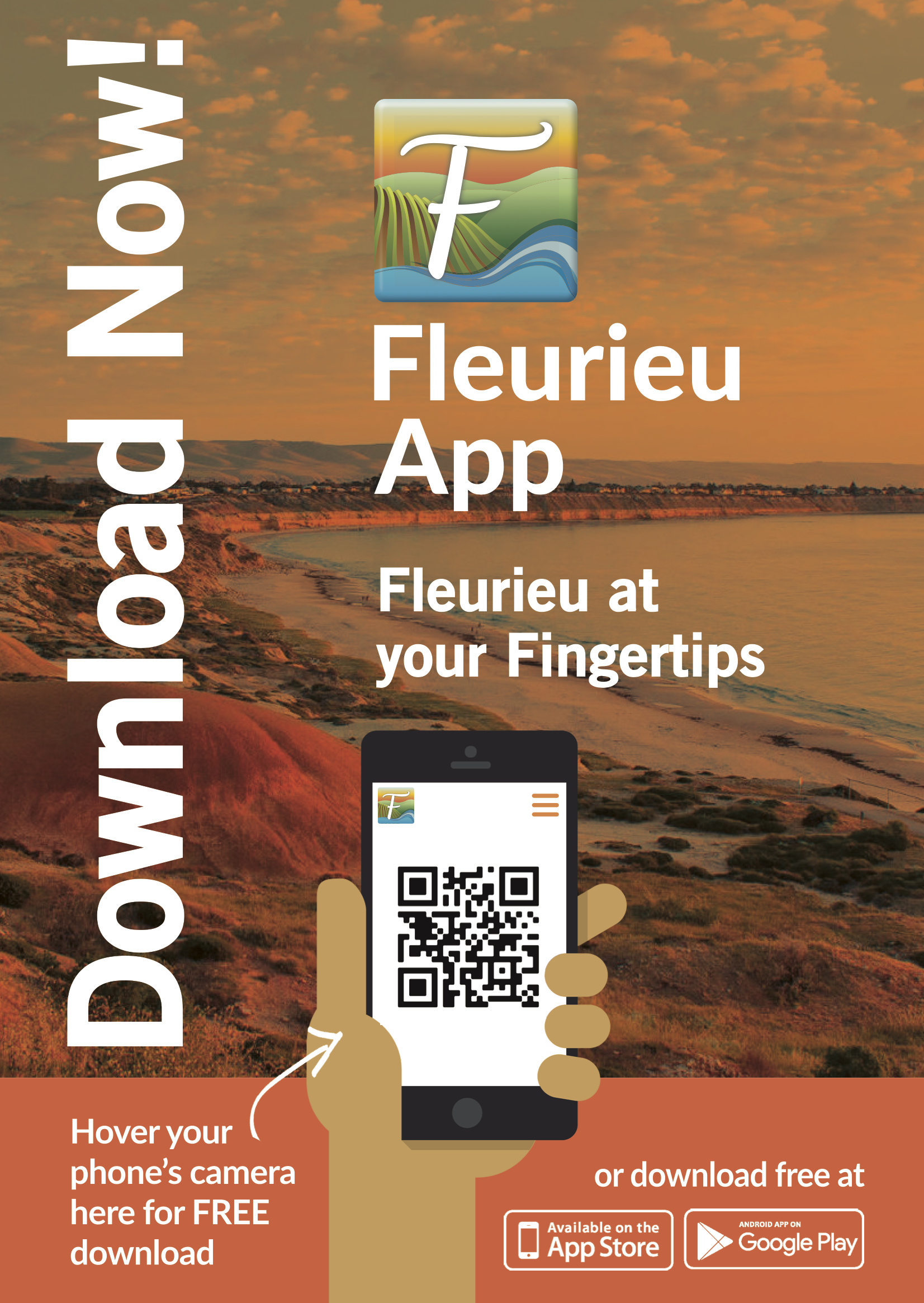 Fleurieu App gives you our region at your fingertips.
Whether its breaking news or sport, latest weather forecasts, events, things to do, business listings, job listings, or the nearest restaurants, cafes, cellar doors, breweries and bars to you – Fleurieu App has it all.
If you live in the Fleurieu Peninsula, or are visiting the area, you need this app.
We provide news, events, information and business listings for McLaren Vale, Victor Harbor, Port Elliot, Middleton, Yankalilla, Normanville, Cape Jervis, Willunga, Aldinga, Sellicks Beach, Myponga, Mount Compass, Currency Creek, Strathalbyn, Langhorne Creek, Milang, Clayton, Finniss, Ashbourne, and even Kangaroo Island.
If you are a Fleurieu Business owner, or supply to the Fleurieu, you need to be listed on this App. Contact us today to inquire about being part of this exciting locally owned and operated project.
CLICK HERE TO DOWNLOAD THE APP FOR FREE
Check out the latest news, sport and information on our Desktop App.
CLICK HERE
Want to get your business listed?
Give us a call today on 0455 791 190 or email us at sales@fleurieuapp.com.
FIND OUT MORE
We're a proud member of the following organisations
What some of our users had to say …
The Fleurieu App has provided us with a wide range of exciting opportunities, and many more to come. Susie often goes above and beyond for her clients, which means a lot for us as a small family owned business. The Fleurieu App team are committed to providing their clients and the community the best service.
Brianna Fischer, Marketing & Communications Executive - Chalk Hill Wines
"The Fleurieu App is fantastic - For us as a Fleurieu business, it keeps us up-to-date on all that is happening in the Fleurieu as well as being a great promotional tool. It is a credit to Susie and the team, and I would encourage other local businesses to get on board – it's locals looking after locals."
Lucy Willson, Bremerton Wines
Here at the Robin Hood we have been working with Fleurieu App since they launched last year, we think it is a great initiative & love Fleurieu App for creating a different avenue for us to share our business content & upcoming events!
Ruby Thomson
Robin Hood Hotel Strathalbyn
What a great idea - Fleurieu App - we are a small business and this has already worked for us not only as a business, but it provides information on this happening in our local area. Highly recommend.
Marg & Malcolm,
Interior Views Curtains and Blinds
I have found Susie absolutely awesome to deal with, passionate and would go above and beyond to please. I highly recommend Susie and the Fleurieu App.
Craig,
SC Building & Pest Inspections
Susie's understanding of and passion/commitment for the benefits of this App in providing Connected Community Awareness and co-ordinated Business Growth Opportunities are intense and outstanding in her Caring Service Provision of same. Congratulations Susie. You and your app are just what we need - right now. Accessing the Fleurieu at your fingertips with the simple push of a button.
The late Kenny Burgess,
Former General Manager 90.1 Happy FM Radio/Happy online TV Live & Replay Streaming Services